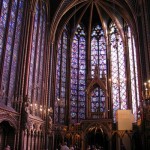 The Holy Chapel, famously known as the Sainte Chapelle, is located within the Palais de Justice complex on the Ile de la Cité in the heart of Paris. It is a perfect representation of a Rayonnant Style of Gothic architecture. It was established by Louis IX of France to dwell the Crown of Thorns and a piece of the True Cross, valuable remains of the Passion. King Louis IX purchased the Sainte Chapelle in 1239 from the Byzantine emperor Baldwin II, for a very expensive price of 135,000 livres. The original cost of building the chapel is only 40,000 livres. Two years later, more remains were brought from Byzantium.

Louis set found a more appropriate space and commissioned the Sainte Chapelle to serve as a reliquary casket, although expanded to an architectural scale. The idea was to raise the Kingdom of France to be the leader of Western Christianity.
Sainte Chapelle is 36m long, 17m wide and 42.5m high with a two-story porch fronting its design. It has the proportions of a Gothic architecture which had been perfected during the 12th century. There are seven panels concluding this architectural model. The outside design focuses on its essentials, with abstemious base and heavy buttresses contrasting with the ascending lightness of the upper parts. A spire made of cedar roof is 33 meters high and considered as a masterpiece of finesses in 19th century.
The upper part of the Sainte Chapelle is dazzling in terms of its Gothic design. The ambience it provides makes an inspiration of harmony between art and religious faith. Artists took a great responsibility in taking good care of the interior of the chapel since it was part of the building reserved for the king and his family. The holy relics purchased by Saint Louis were kept and displayed in a large reliquary placed at the peak of the open tribune at the back of the apse. They were displayed to the people each year on Good Friday.
The lower part of the Sainte Chapelle is in commemoration to the Virgin Mary, whose monuments stands next to the portal. The walls are embellished with trefoil arcades and twelve medallions representing the twelve apostles. There are low vaulted ceiling that is painted to represent heaven with abundant stars. The floor holds tombstones covering the vault of treasurer of the Sainte Chapelle. The lower part of the chapel was reserved for palace staff during the period of monarchy.
The Sainte Chapelle was deemed as a Historic National Monument in 1862 and is renowned for its luxuriously shaded Stained-glass windows which made up the 600 meters of its area. But sad to say, the effects of air pollution have posed extraordinary challenges to conservationist. Nowadays, operations to restore and protection for the windows have been started with support from the Ministry of Culture and the Gaz de France Foundation.