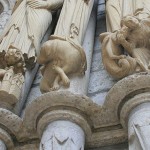 At the opposite end of the spiritual spectrum from decadent Versailles, Chartres cathedral represented the highest architectural and theological aspirations of the Middle Ages in France. The Chartres cathedral was much the same in medieval times as it is now, which should give you a sense of how impressive it must have been in 1260, when it was completed. Rodin described it as the French Acropolis, and once you've seen it you'll be hard pressed to disagree with him.

The celebrated Choir Screen of the Chartres cathedral has 40 niches holding statues of Biblical figures. Don't be so dazzled by all the stained glass that you overlook its intricate carvings. There are also Rose Windows that no cathedral in the world can match. It's a 12th century glass that gave the world a new color, Chartres blue, and is absolutely exceptional. All of its windows are glorious, but the three rose windows may be the best.
The Royal Portal found in Chartres cathedral presents sculpted bodies that are elongated and garbed in long, flowing robes, but their faces are almost disturbingly lifelike. Christ is shown at the Second coming – his descent to Earth on the right, his ascent back to Heaven on the left. Both the North portal and the South Portal are carved with Biblical images. The South Portal doorway is carved with the images of saints. The martyrs are carved on the right door, confessors are on the left. Apostles get the center.
The New Bell Tower present in the Chartres cathedral is for those enthusiasts that are not afraid of heights  and are physically fit who are not afraid to climb to the top of the tower. From the peak, you will see the view for miles.
Those who prefer underground crypts to the dizzying heights of the tower in Chartres cathedral will find that they can only visit them as part of a guided tour. An English language one is held twice a day most of the year by lecturer Malcom Miller at noon and 2:45pm Monday through Saturday with an admission fee of 10 Euros.