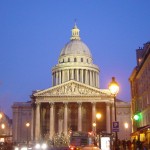 The Pantheon in Paris is a structure in the Latin Quarter of Paris, France. In Greek, Pantheon means "Every God". Originally, the structure was built as a church in commemoration to St. Genevieve but undergone many variations which merges liturgical functions with its role as a well-known burial place. Pantheon in Paris was an early model of Neoclassicism and is located in the 5th arrondissement on the Montagne Sainte-Geneviève.

It was designed by Jacques-Germain Soufflot who was planning to combine the light setting of the Gothic Cathedral with those classical principles. He died before completing his work and the remaining plans for the structure was not completely followed. He was not able to complete his work because of financial problems. The transparency he had arranged for his work of art was not achieved by the apprentice who finished his job. He had a lot of changes and didn't followed the ideas of his teacher. However, it is still one of the most significant architectural accomplishments during its time and the first immense neoclassical art.
Compared to other famous structures in the city, Pantheon in Paris has its share of the story. It was built for the reason to replace the damaged Sainte-Genevieve church under the command of Louis XV who was at the same time putting up this structure as a gratefulness appreciation to God after his health had recovered.
A few years after the Pantheon in Paris was built, came the French Revolution. It was that time when the Revolutionist government converted the church into a burial place, where exceptional Frenchmen was buried. These people were the ones who sacrificed their lives for their country and those who did something great for France. The Pantheon in Paris was converted back and forth over the years but finally considered its concluding role as a mausoleum for martyrs and heroes of France. Among those who are buried here are Voltaire, Rousseau, Victor Hugo, Jean Moulin, Louis Braille and Soufflot himself, the architect of the Pantheon.