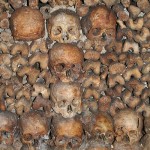 The Paris Catacombs is one of the famous burial places in Paris, France. Although widely known as the catacombs its official name is "les Carrieres de Paris" translated as quarries of Paris. It is an arrangement of cavernous tunnels and rooms located in what were Roman-era limestone quarries. It was in the late 18th century, the quarries were converted into a mass tomb.

Remains of the dead from the riots which took place in the places of Greve, Rue Meslee and the Hotel de Brienne were relocated in catacombs on August of 1788. Victor Hugo practiced his expertise for the tunnel structure in Les Miserables which was later used by some Parisian members of the French Resistance during World War II. An underground bunker was also established in the catacombs below Lycee Montaigne by the German soldiers. Though, the underground tunnels and chambers were long keep safe during the construction of Paris, quarries do sprout which results in a hole in the ground causing damage to buildings.
After incidents like this, for means of prevention the Inspection Generale des Carrieres was established to supervise the quarries and forbids digging of new ones.  On the other hand the IGC dig some parts and thus make them legal for the purpose of observation and preservation of the catacombs and quarries of Paris. Until this day on the IGC, continues to monitor the quarries of Paris.
The entrances to the catacombs are classified. Although there are portions of the catacombs for public viewing but nothing more fulfilling than to see the catacombs at its best. The tunnel system of the catacomb is yet multifaceted. The tunnel for public viewing is at least 300km path. Although in some tunnels there are plaques indicating the name of the street above, still you will be need a guide to manoeuvre in the tunnel.
Paris Catacombs has a lot to discover. If you plan to explore it, you should also have a expert guide with you.