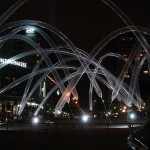 The "Nuit Blanche" event created in October 2002 attracted 1.3 million spectators of Paris artists in 2005. The concept wedged in Brussels and Rome as of its second year. Madrid and Riga followed suit and decided in 2006 to offer the public one night chance to meet and share in originality and modern creativity.

The European Photography Month network was extended by various Paris artists in 2004 to welcome Bratislava, Luxemburg, Moscow and Rome in 2006. The network was organized behind the cities of Berlin and Vienna. This was intended to be a site for active interactions on skills and expertise. A joint exhibition of young photographers' masterpieces, famous as "Mutations", was organized by this network.
Since 1997, the City of Paris has been working with Cultures France, the agency of the Ministry for Foreign Affairs accountable for international cultural exchanges, on a fruitful partnership which has led to many projects. Some examples of recent achievements are:
– A performance in in Copenhagen, Warsaw, Vilnius and Riga in 2005
by The "Cirque ici" company
– Le Dernier Caravansérail by Ariane Mnouchkine was on the bill at the Lincoln Center in New York, as part of the "Act French" event in 2005
– The "Ola Kala" show by the Paris circus company "Les Arts Sauts" was performed in August 2006 at the Tohu, Cité des arts du cirque in Montreal (Canada)
– Major cooperation with the urban theatres of Beirut and the Théâtre du Rond-Point in Paris allowed the Lebanese public to discover plays by young French authors and enjoy readings and workshops as part of the "Rond-Point.
For the first time the Accentus choir was invited to the prestigious City of London Festival from the 22 June to 12 July. The event devotes most of 2007 programme to French music. The choir will perform a unique programme featuring original creations and transcriptions. Sometime in May, music artists from Beijing and Shanghai, the Ensemble Alternance group are invited to give a master class, a workshop and a concert in both cities, in addition to rising profile of contemporary music in China. Known composers such as Philippe Schoeller, Mark André and Gérard Pesson also aims at promoting its training performances abroad and discovering young talented artists likely to study in Paris.
The City of Light and the Paris artists have supported the International Dance Festival in Tunis, "Rencontres chorégraphiques de Carthage – Printemps de la danse". Paris City Hall's support has enabled the inhabitants of Tunis to discover many Parisian companies. From 2006, City Hall also contributed to training dancers: in 2006, young Parisian breakdancers lead workshops with Tunisian dancers and, in 2007, Parisian choreographers will lead workshops as part of the new dance school open to young people from different developing countries.
The objective is still to carry out cultural exchanges on an equal footing, respecting identities and developing mutual advantages. After the success of "Made in Paris", event devoted to young Paris artists, specifically French photographers in London, a Franco-British video night and an exhibition bringing together young artists from both countries took place in Paris. Paris artists also take an active part in the European Photography Month with Berlin, Bratislava, Luxemburg, Moscow, Rome and Vienna.